Volunteering – information for volunteers and areas of service
Volunteering at the ToN is a unique opportunity to experience life on a Palestinian farm, enjoy the hospitality of the Nassar family, learn about caring for the land, the situation of the ToN, and meet people from all over the world. As a volunteer, you will be part of a small community working together to keep the farm and ToN projects running and growing.
A special program will be prepared for each day, including orientation, information about the situation of the country, activities, documentaries, and on weekends the opportunity to go on excursions to Bethlehem and its surroundings. In the evening you can enjoy time at the campfire.
We are proud to work with different religions and cultures and welcome all who believe in the importance of building bridges of tolerance and understanding and working towards a world with respect for each other, the land and our environment are the prevailing values.
Short-term Volunteers (1-3 weeks)
We have many opportunities for short-term volunteers from 3/15 to 11/15. Please see the volunteer positions listed below to learn more about the type of work that can be done here.
Long-term volunteers (1-3 month)
It is always useful for us to have some volunteers who can stay with us a little longer and become familiar with the work. We often have volunteers who stay up to 3 months. If you can stay longer, we would greatly appreciate that help and commitment. Please let us know how long you would like to stay and what work would you like to do, depending on the time of year, we will see if we can accommodate you.
Please note that during the winter months (mid-November to mid-March), we can only accommodate a limited number of volunteers, maximum 4, who would like to stay at ToN between 1-3 months. Volunteers for one day are also welcome during the winter months.
General information about the ToN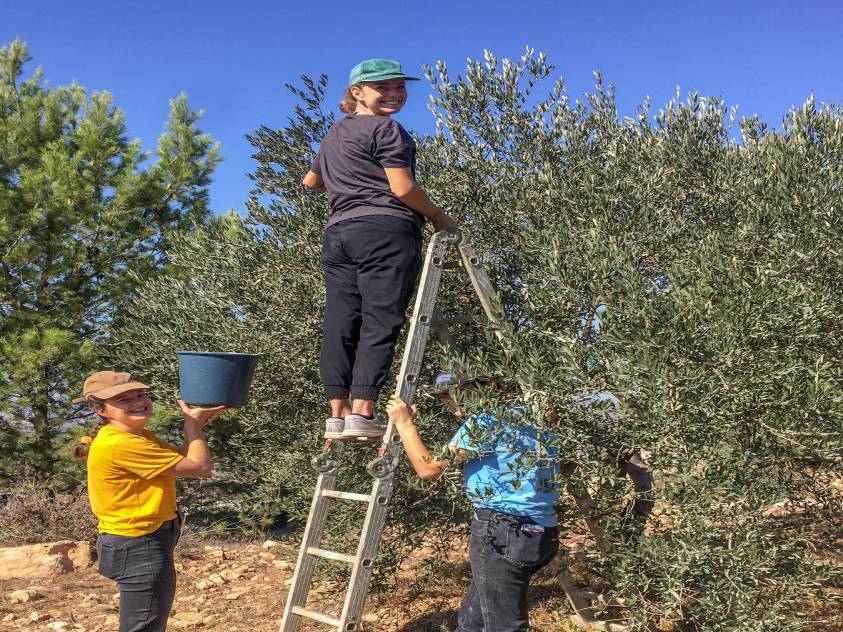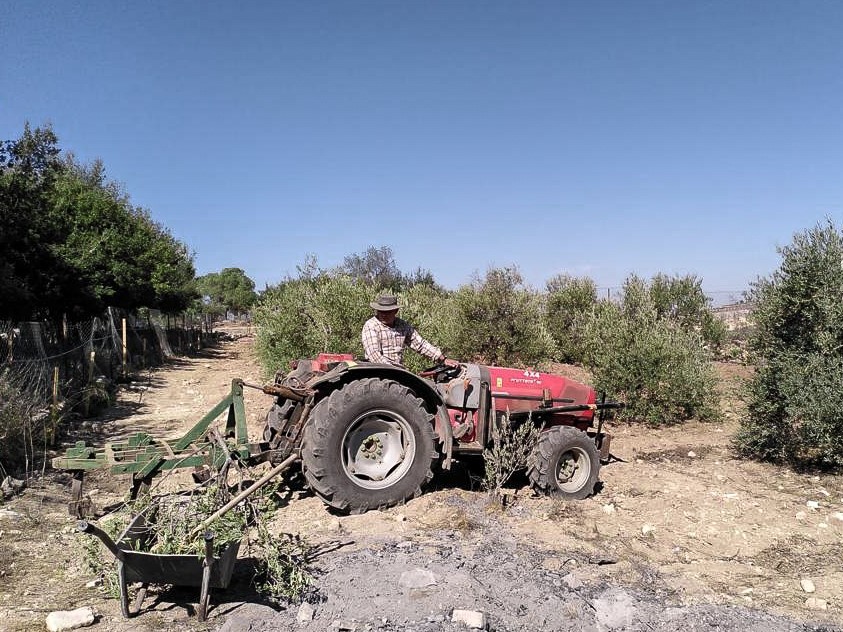 Tent of Nations is a family-run farm located 950 meters above sea level, about 9 km southwest of Bethlehem. We grow olives, grapes, almonds, and other fruits and vegetables, and keep a number of animals including sheep, chickens, pigeons, dogs, and a donkey. We are in the process of increasing the production of the farm. For this reason, and due to the economic situation, we are not yet at the point where we can harvest enough to make a commercial profit from the farm land.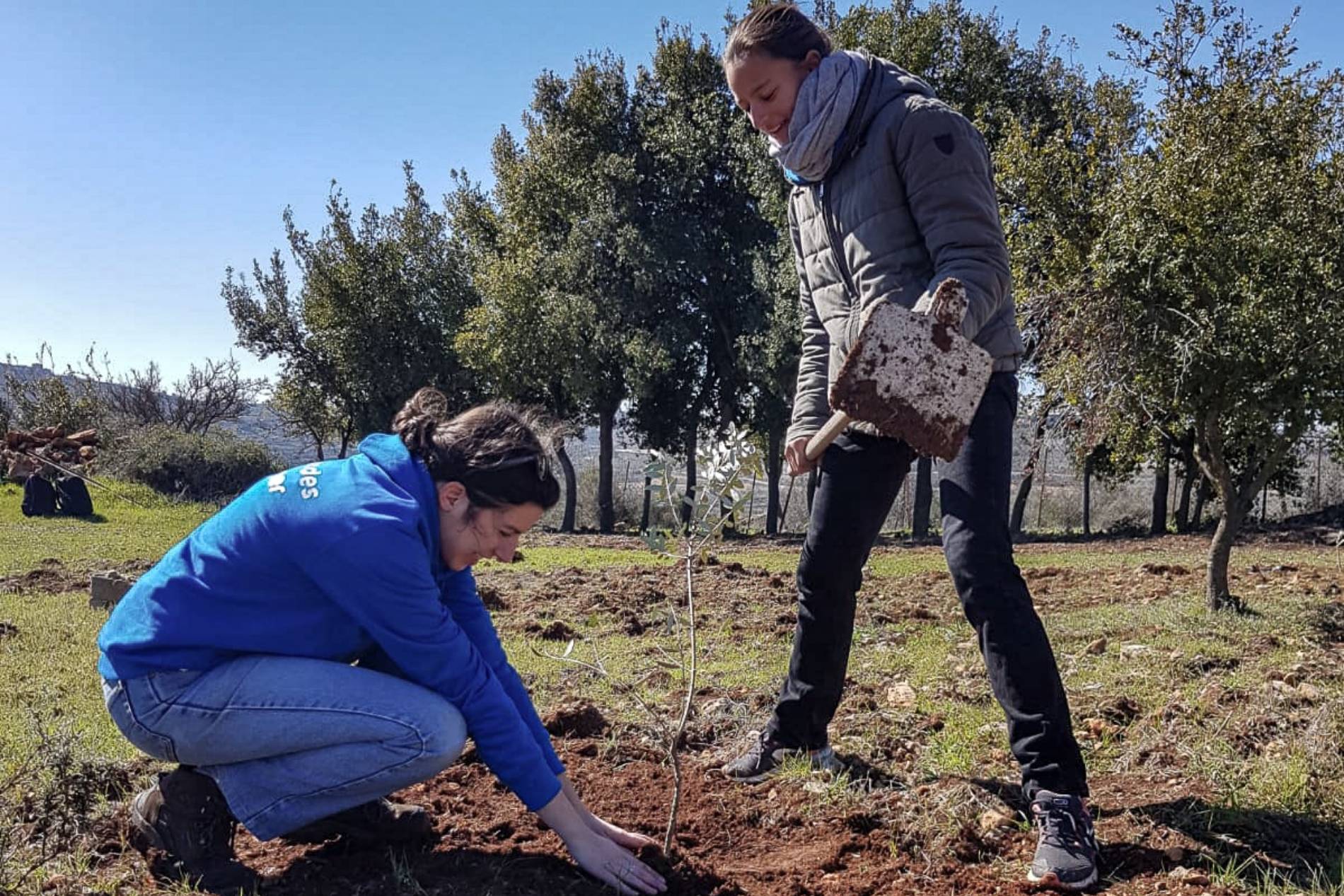 There is a friendly and joyful community atmosphere on the ToN where everyone can work together. With a real mix of nationalities among the volunteers and regular visits from groups who come for day visits and short stays, the farm features a multicultural flow of people. Meals are provided for the volunteers, and everyone on the farm eats together. There are usually 4 long-term volunteers throughout the year, and we host short-term volunteers from March 15 to November 15, so there can be anywhere from 4 to 25 volunteers at any given time. The most common languages spoken are Arabic, English and German.
We believe in bringing people of all cultures and nations together and building bridges of understanding and friendship. The ToN provides a space where people can work, inspire and learn from each other. We are working towards being fully self-sufficient in food, water, and electricity, and hope that on the long run we will be able to use the proceeds of the ToN to self-fund the ToN's programs and projects, and then hopefully support other local projects. Our vision is to establish an environmental and educational center on the farm where children and youth can learn about alternative energy, organic farming, and community building. We hope to prepare young people to make a positive contribution to their future and their culture by teaching those values such as tolerance and understanding, and by instilling respect for the environment by raising awareness of our dependence on the land. We look forward to continuing to welcome many volunteers and visitors to the ToN and bringing hope and faith in action to an international community.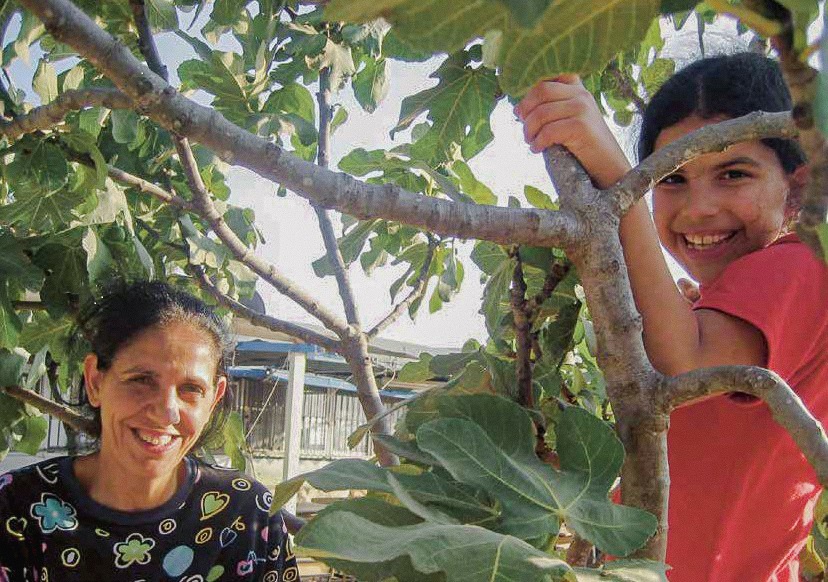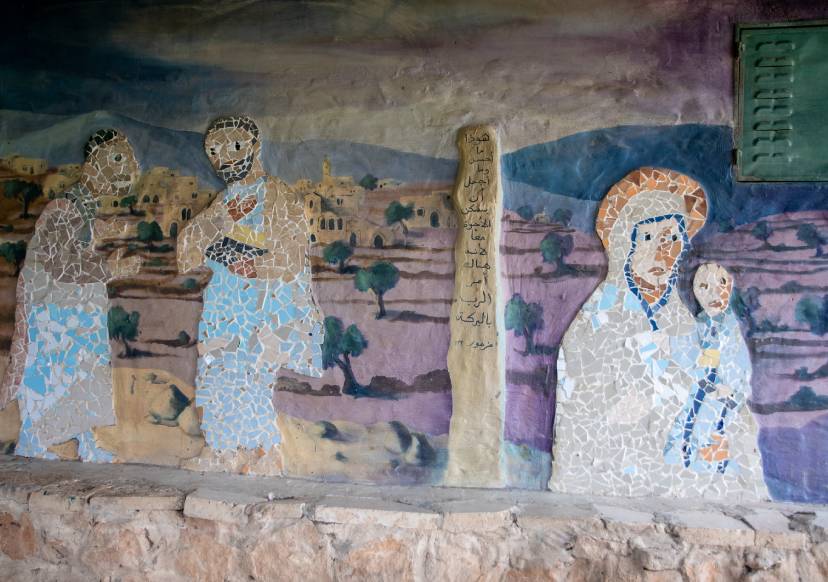 We ask that you commit to work at least five days per week, approximately 8 hours per day. After that, you can take time off to travel around the area and visit the many sites in this historic country. Your day will begin at 7am with breakfast. Most of the day will be spent working on the farm, with breaks for tea and lunch ending around 6pm. Evenings are yours to spend as you wish on the farm – often volunteers and guests sit around the campfire after dinner, playing games and sharing stories. If you are musically inclined, feel free to bring your instrument and entertain us!
Volunteers are accommodated in a large, well-equipped tents/Shelters (with paved floors, solar-powered lighting, and beds with mattresses). The infrastructure on the ToN is very basic, as we are not allowed to be connected to running water or electricity. We have compost toilets and solar heated showers on sunny days. However, volunteers need to be aware that all of our water comes from rainfall, so we need to be careful with water usage. We also have to be careful with electricity, as it is generated solely from our solar panels (with a backup generator). Wireless internet access is available, but due to the limited infrastructure it is expensive and we ask volunteers to use it sparingly. We accept volunteers between March 15 and November 15. We do not have the infrastructure to provide housing for volunteers during the cold winter months, with the exception of 4 long-term volunteers who are housed in our renovated caves. It is still possible to come as a day volunteer during the winter – especially for tree planting during the months of January through March – however, we are unable to provide overnight accommodations, so you will need to find lodging nearby.
You should bring sturdy shoes, a flashlight, work clothes (including work gloves if possible), sunscreen, a sun hat, a towel, and a sleeping bag. In winter it is usually cold and often windy. Therefore, please bring warm clothes, gloves, a hat and a rain jacket. We expect both male and female volunteers to dress conservatively (always cover your shoulders and knees). Below is a guide to the weather throughout the year.
Since the farm is located on a hill 950 meters above sea level, it is usually a bit colder and windier than other places nearby. It is usually cold at night, so please bring warm clothes and a rain jacket. You may also need gloves and a hat. Here is an overview of the weather throughout the year. March/April – The weather is usually warm and windy with light rain. Temperatures range from 18º-24ºC during the day and around 10ºC in the evening. However, sometimes it can be very cold and rainy during the day. June/July – The weather is usually hot, dry and dusty with temperatures between 22º-27º. It can get cool in the evenings. August/September – The weather is mostly hot, dry and dusty with temperatures between 26º-32º. It can get cool in the evenings. October/November – The weather is mostly hot, dry and dusty with temperatures between 20º-27º. It can get cool in the evenings.
For many years, the Nassar family has invited visitors to enjoy Palestinian hospitality, learn about life on the farm, and learn more about the family's situation. The family does not operate this as a business and does not seek to profit from the volunteers' visits. However, the reality is that without donations to cover the costs, they would not be able to continue receiving volunteers.
We therefore welcome donations to cover the cost of food and equipment for the volunteers, as this is essential for the sustainability of the farm. Due to the unique situation in the West Bank, basic needs such as water, electricity, fuel and food are very expensive. To cover our costs of providing food, electricity and facilities for volunteers, we recommend a donation of 100 euros per week for short stays, depending on what you can afford. If you are planning a longer-term volunteer placement, we realize that you may have a limited budget and cannot donate so much. For longer stays of more than a month, we recommend a donation of around 300 euros per month.
We realize that you are already giving us your time and skills, and we would love to offer you hospitality for free, but the reality of our situation makes this really very difficult. We hope this doesn't discourage you from coming to visit us – please talk to us about it if this is the case. We really want you to feel welcome to visit the ToN, learn more about our situation, see what we are doing, and hopefully become good friends. The friendship, support and enthusiasm of the volunteers are much more important to us than any amount of money. 
As you can imagine, we cannot cover your travel expenses or travel insurance costs. You should know that some insurance companies exclude the West Bank from their coverage, so you should check with them. To get to the ToN, you will need to pass through Israeli border controls and obtain an Israeli visa at the border. This will allow you to travel to Israel and the West Bank. For many nationalities, you can get a free Israeli tourist visa upon arrival at the border, which is valid for 3 months. You will need a passport that is valid for another 6 months. For more information, see GoIsrael – Tourist Visas. It is safe to visit the ToN. However, you should know that the Palestinian West Bank is occupied by Israel, which controls the area with its soldiers and other forces. You may want to seek advice and inform yourself about the situation before you visit. If you have concerns or questions, please email or call us. If you are interested in volunteering on the ToN, find out more about the opportunities we offer and apply using our volunteer application form. If you have any questions about volunteering, please contact us.
There are the following volunteer areas on the ToN (see below):
We ask that you choose one from the above tasks. Please indicate your preference in your application. You may also apply for a combination of tasks that interest you and we will do our best to support your work. Be aware that while all volunteers are assigned one of the above tasks are in someone's responsibility on the farm. They are expected to help with a variety of tasks now and then as needed.
You may also be interested in joining our women's program Beit Al-Reef.
You can also apply to participate in one of our 10-days work camps that take place between March and October (for harvesting work, cave renovation, and the children's summer camp).
For more information on what to expect when volunteering with us, please see our Volunteer Opportunities page. Please read it carefully before you apply. If you have any questions, please contact us.
Volunteers on the animal farm
We keep a small number of animals on the farm, including sheep, chickens, rabbits, pigeons, dogs and a donkey. As a volunteer at the animal farm, you will be responsible for feeding, cleaning, and caring for these animals and keeping the grounds tidy and clean. You will also be asked to help improve the infrastructure of the animal farm. Volunteers applying for this role should have experience caring for animals.
Typical duties:
Feeding and watering all animals in the morning and evening, mucking out all animal cages daily, leading donkeys to pasture and bringing them back in at night, collecting eggs from the chickens, making cheese, keeping records of animal health, newborns, and whether medical treatment is needed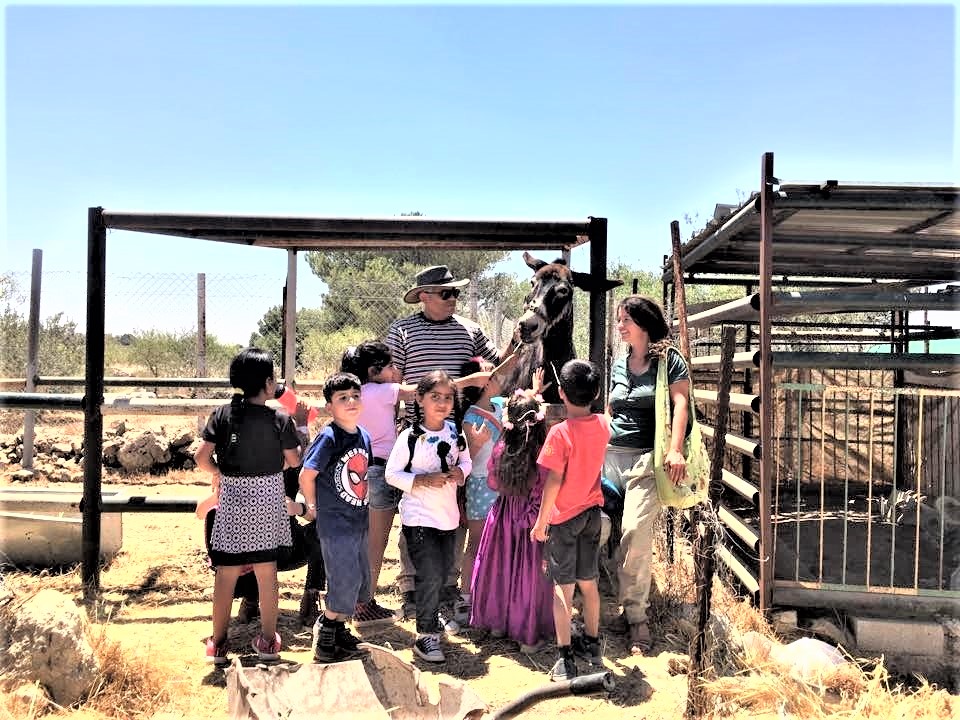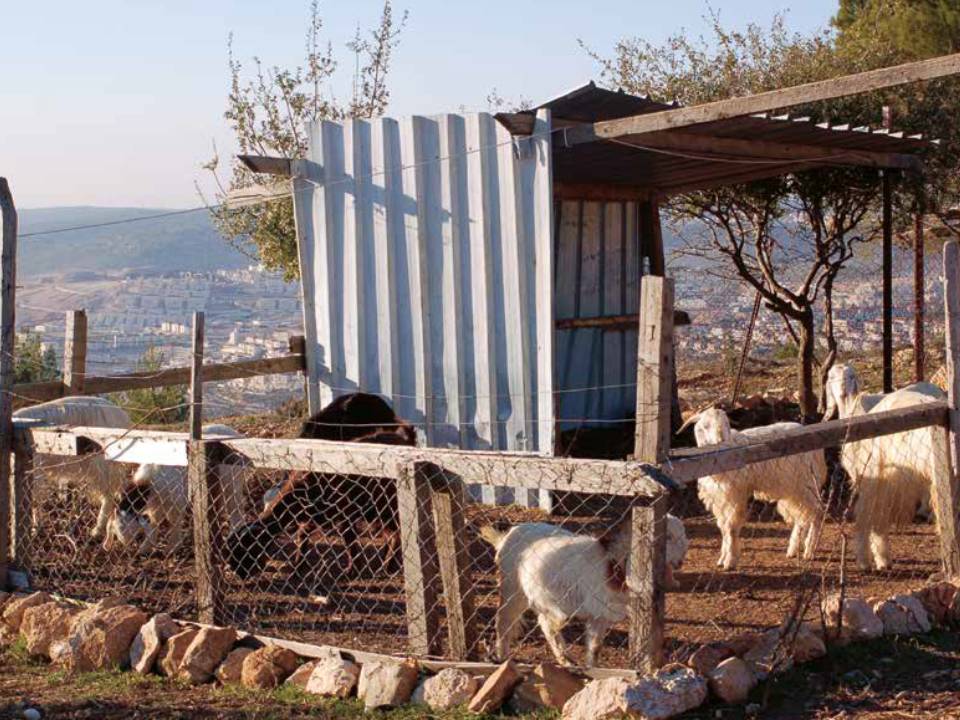 Volunteers for construction
We are constantly building and maintaining infrastructure on the ToN and need volunteers to help us with this work. You can help with whatever project we are undertaking, such as renovating a cave, building a new campsite, or digging a cistern. You can also help maintain our existing structures.
Typical tasks:
Cement work, digging and repairing broken fences, laying pavers, pumping water from cisterns into tanks, setting up our tents.
Volunteers in agriculture
The ToN covers about 42 hectares and requires a lot of work to maintain it and make it flourish. Palestine has a climate with little rainfall and hot summers. Therefore, it is important that the trees and plants are able to soak up all rainwater. Much of the agricultural work is to keep the soil in rotation and soft, so be prepared to do a lot of digging! In the winter and spring, tree planting will be an important task. In the summer and fall, your duties will include irrigation and helping with the harvest.
Typical duties:
Digging trees to make sure they can soak up water; assisting with plowing, planting wheat and other crops; Preparing soil and planting trees; Irrigating and spreading manure around trees; Making chain-link fences to protect trees; Helping with harvesting.
Volunteers for the farm shop
We welcome all guests and groups to visit our farm shop where we sell farm products such as almonds, dried sage, za'atar, olive oil, applesauce and grape syrup. In addition, there is the possibility of a cafeteria where visitors can get coffee/tea and other refreshments. As a volunteer, you will be responsible for running of the farm shop and cafeteria, serving guests and preparing products for sale.
Typical duties:
Organizing and cleaning the farm store, serving visitors who wish to buy there; serving coffee and other refreshments to visitors, gathering and drying sage for sale, packaging and labeling our products, assisting in the development of the farm store, such as designing postcards and other products.
Volunteers for greenhouse and gardening
We are working towards self-sufficiency on the farm; keeping the greenhouse and garden productive is key to this goal. The work will vary depending on the time of year. In the winter months, it will focus on preparing the soil and planting, while in the summer, vegetables will need to be harvested. You will need to take care of the greenhouse and garden to make sure all plants are watered, weeded, and tended. Previous gardening experience is useful, but not required.
Typical duties:
Digging up the soil to prepare it for planting, planting and watering vegetables, planting and caring for tree seedlings, weeding, making sure the greenhouse and garden areas are kept neat and productive.
Volunteers for housekeeping and kitchen
Throughout the year we welcome many visitors and groups to our farm and host many short and long term volunteers. It is very important that we keep the farm clean and organized so that it can continue to operate efficiently and be a pleasant environment for visitors and to live and work there. Volunteers in this role are responsible for ensuring that the campsite and central area of the farm are well maintained and that the farm is always ready for hosting groups and visitors. Volunteers will help to prepare meals for visitors and volunteers and to keep the kitchen clean.
Typical duties:
Sweeping the campsite, caves and dining area, cutting vegetables and assisting with cooking, Washing dishes, cleaning the kitchen, preparing the meeting cave and restrooms for visitor groups, Washing laundry and preparing beds for visitors, cleaning up trash on the farm, making jam and other products from the farm's produce.
Volunteers to do office work for long term volunteers
There is a lot to do behind the scenes to keep the ToN running. As an office volunteer, you will be responsible for keeping the website up to date with news from the farm and volunteering opportunities. You will also be responsible for writing the e-newsletter and supporting our social media to spread the story and vision of the ToN. We ask that only those who will stay for at least two months apply for this position, as the responsibility of publicly representing the ToN requires a longer training period. Our website is a WordPress website; some prior experience is desirable but not essential. Office volunteers should be capable in written and spoken English.
Typical duties:
Ensuring that all information on our website and in our brochure is current and accurate; managing and responding to comments on the website and social media, writing our quarterly e-newsletter that is sent to our mailing lists, updating blogs/articles/videos about the ToN on our website, working with others to translate portions of our website and brochure into other languages, handling volunteer inquiries.
For this role, we need someone who has experience with metal/woodwork and is able and experienced working with machines. In this role you will be responsible for our workshop where we keep all the tools and machines used on the farm. Your job will be to make sure the workshop is well organized and that the tools and machines are kept in good working condition, as well as to help with all metal and wood work on the farm.
Typical duties:
Changing oil on tractor/water pump, welding, building shelves, repairing broken tools, keeping records of machine maintenance.